About Me
Machine Intelligence / Startups / Finance

Moved from NYC to Singapore in Sep-2013

2014 = 'fun' :

Machine Learning, Deep Learning, NLP
Robots, drones

Since 2015 = 'serious' :: NLP + deep learning
Show-of-Hands
No other obligation...
Been here before?
Want something easy?
Want something advanced?
Watch Engineers.sg?
Listen to podcasts?
Want another Beginners Day?
Outline
Beginner / Newbie
Day-to-Day user
Research...
Beginner / Newbie
Starting Out
Installation
Size vs Structure
Sizing & Complexity
Starting Out
Lots to watch & read & watch & read & ...
Better : Set a deadline, and do something
Install → MNIST → Blog+GitHub
Installation
Windows vs OSX vs Linux
Find newest instructions
Upgrade ⇒ breakage
GitHub models
Is this the best starting point?
Is this using the same versions?
Don't underestimate "taste"
Size vs Structure
Common concerns :

How many layers?
How wide?
What activation function?

Better to look at bigger picture
Sizing
Get something that works :

Train for ~15mins
Should show improvement

Make small, but definite changes
Prove that it has an effect
Complexity
Do a back-of-envelope estimate :

1 training example per parameter
Keep images small
Can you do the task in <1 sec?

Keras : model.summary()
Natural Language Processing :

Embeddings : 50d should work
Vocab >8k is nice-to-have
Day-to-Day
Simple → Complex
CPU vs GPU
Improving model performance
Understand limitations
Complex → Simple
Simple → Complex
Errors very difficult to reason about
Make sure model works at every step
When in trouble : Make it trivial
See code example
CPU vs GPU
Experiment cycle speed is key
No GPU to play with?

If this is 'serious' then spend the money
One local GPU, use cloud for more
Keras : model.fit_generator()
Improving model
performance
DropOut (generalisation via ensembles)
BatchNorm

or 'cleaner' LayerNorm
or simple WeightNorm (parameter-free)

Adaptive gradient methods

Adam, Adadelta, etc
RMSProp is ~BatchNorm for gradients

Hyperparameter search? Meh
Understand Limitations
Vary network structure
Have a hypothesis before you run
Explain what went wrong
Complex → Simple
When something works super-well
Smaller may be better...
Or the NN may be cheating
Research
Implement papers
Reproducibility
Dare to Succeed
Implement Papers
À la Andrew Ng
Read → Implement → Improve
Publish on arXiv & conference
Dare to Succeed
Deep Learning is super-new
Need something harder than MNIST...
No need to be in MAFIA's shadow
Wrap-up
Beginners : Start!
Day-to-day : Experimentation
Research : Don't be timid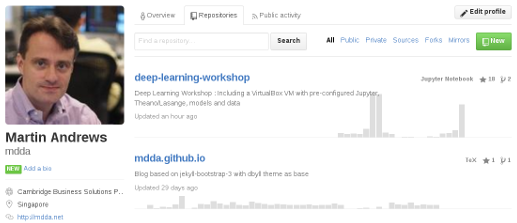 Deep Learning
MeetUp Group
Next Meeting :

XX-August-2017 @ Google : Topic == "Mobile"

Typical Contents :

Talk for people starting out
Something from the bleeding-edge
Lightning Talks
8-week Deep Learning
Developer Course
Sept - Oct+
2x Weekly 3-hour sessions will include :

Instruction
Projects : 3 structured & 2 self-directed

Pre-register : http://RedCatLabs.com/course
( more later )